Although the Halloween season just began, Disneyland Paris launched this week its Christmas marketing campaign under the theme "Live your biggest Christmas ever". You can see above the poster created for this 2010 Christmas event, which looks nice if we except that some elements are not at their right place - the Disneyland Hotel is behind Big Thunder instead to be at the entrance of the park, Main Street Station is located on the left of Town Square where the City Hall is in real and Mad Hatter tea cups are located on this poster on Frontierland's backstage! But it's just an advertising poster so it's no big of a deal.
So, DLP Christmas season will begin on November 7th and anyone coming at that time who will order a package hotel + park tickets before December 15th will have a 30% discount AND it's free for children under 7! If you're planning to come at DLP next Christmas with your family it could be a good deal.
Can you expect anything new for this year Christmas season? Well, the huge Christmas tree will always stand on Town Square (though not as huge as on the poster above!), Fake or real snow depending of the weather will fall on Main Street U.S.A and the Lights of winter will light Main Street and Sleeping Beauty castle, just as they always do.
However new characters will appear in the park. Although Diisney's new animated Raiponce will not be released in Europe before the end of the year DLP guests can expect to meet Raiponce characters in the park as soon as November 7th. And more precisely on the Castle Theater located on the front right of the Castle. In Fantasyland Belle's Christmas Village will reappear and children of all ages will be able to meet Santa Claus in its workshop located at Frontierland's Critter Corral.
2010 is the "Year of the new generation" and every "new generation" characters will come together in a show on Central Plaza. The end of the show promise to be magical when the characters will magically transform the castle in an "ice" castle thanks to the well known lighting effects. Other shows including "Mickey and the magic of Winter" at Chapparal Stage and Fantillusion parade in the evening will also be part of the Christmas Celebration.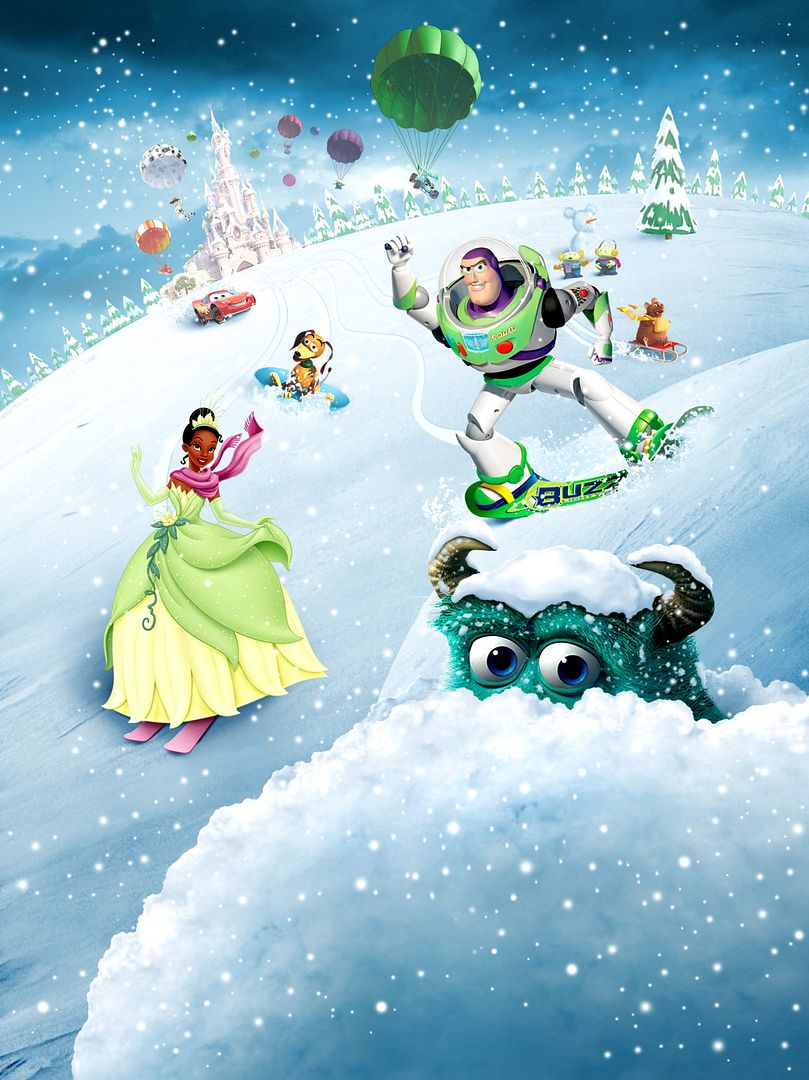 But for Disney parks fans the most interesting is probably "It's a Small World Celebration". Like at Disneyland, It's a Small World is specially transformed for Christmas season. Except that it's done totally differently than at Disneyland. As i know that you don't like to wait i have already for you an HD video of "It's a Small World Celebration"! This video - watch it in full screen mode - was filmed last year but the "Christmas" changes in the show should be exactly the same. So, even if you can't come to DLP next Christmas at least you will see this "Small World Celebration".
And, talking about Christmas, if you're looking for a great Christmas gift for anyone you love - including you! - the "Disneyland Paris, From Sketch to Reality" book with its 320 pages and 750 pictures - including 250 renderings from Walt Disney Imagineering - would be a GREAT gift for any Disney fan! I still have some copies of this hard to find book and, as i am one of the two authors of the book, each copy will be sign specially for you or anyone you wish. Of course, don't forget to tell me the name to whom you wish I dedicate the book.
Price for one copy of the english updated edition (with the text in english) is 87 Euros + 15 euros shipping to any country. Payment can be done with Paypal or by wire transfert if you don't have a Paypal account.
You can see some inside pages of the book on
this D&M page HERE
and to order the book please email me at: lawrence55@wanadoo.fr
Paypal payment can be sent to: lawrence55@wanadoo.fr
See you next week for a big update (and good news!) about DLP's future!
Pictures: copyright Disney
Video: copyright Disney and more